New Hockey Bag has Built in Fan
Windsor, Ontario based
Dry Locker Inc.
has a big hit on their hands this Christmas with their
Dry Lock Hockey Bag
that comes with a built in fan to dry your hockey equipment while it's still in your bag.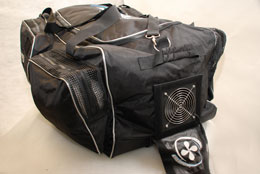 The hockey bag works much like inflatable Christmas lawn ornaments. The plug-in fan circulates room temperature into the hockey bag, puffing it up. The air from the fan exhausts through charcoal-carbon filters, drying the wet gear in two hours without ever having to remove it and hang it up.
Drylocker uses only fast drying natural room temperature air and therefore will never harm or damage your equipment unlike constant heat use which overtime will break down rubber, leather and other material.
You'll never have a "stinky or smelly" hotel room or basement again, due to drying hockey equipment. Because, you never have to take your equipment out of your hockey bag, you'll never forget equipment at home or play with wet equipment again.
The Dry Locker Hockey Bag with built-in fan is vailable on-line at
www.drylockerhockey.com